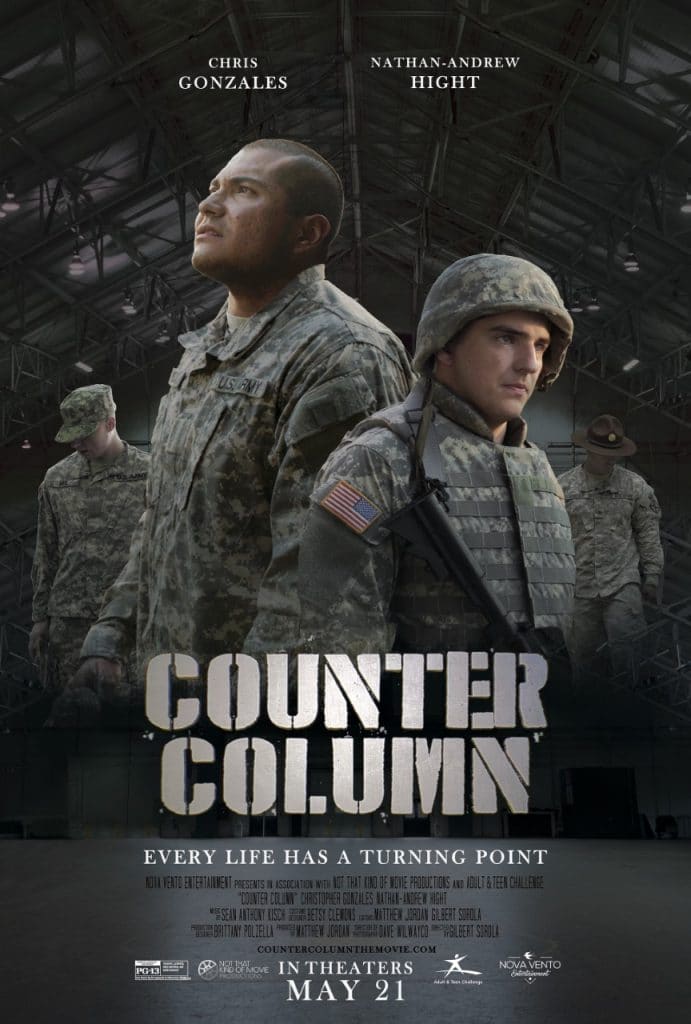 Adult & Teen Challenge is honored to endorse Counter Column, an award-winning film from Nova Vento Entertainment. The movie is set for a nationwide theatrical premiere on May 21, 2021. Tickets and show locations can be found at CounterColumnTheMovie.com/Showings.
Counter Column follows Anthony, a San Antonio drug dealer who watches as his life spirals out of control. Attempting to escape his circumstances, Anthony joins the Army only to clash with Chris, a hard-headed Christian determined to share his faith despite the risk of persecution. As Anthony intentionally makes Chris' life miserable, he braces himself for retaliation that never comes. Despite the external transformation he receives from the Army, Anthony resists any internal change. However, Chris' response to tragedy turns begins to turn everything around for Anthony.
The film takes its title from the military term "counter column," a command that soldiers turn and march in an opposite direction. This change of direction is symbolic of the spiritual changes in the main characters' lives.
"I highly recommend this movie," Gary Blackard, ATC president and CEO, said. "This movie is a good reminder that no life is beyond redemption."
In an interview with ATC, Counter Column director and cowriter Gilbert Sorola expressed that the film is intended reach both Christians and non-Christians alike.
"The message we hope to convey is one of redemption in Jesus Christ to those who haven't trusted in Him yet," Sorola said. "We also hope to encourage Christians to share the truth of the Gospel even in the face of difficulty, hostility and persecution."
Matthew Jordan, Counter Column producer and cowriter, echoes Sorola's sentiments.
"We pray that audience members will leave full of hope after hearing the message of the gospel," Jordan shared.
In recent years, the Christian community has established a strong presence in the film industry, with such hits as The Blind Side, I Can Only Imagine, and Soul Surfer. Despite their popularity, Christian movies have not been without their critics, who often cite poor writing, acting, and overall film quality as recurring weaknesses. However, the team behind Counter Column has taken measures to countermand potential criticism.
"It took us three years to write the script…We auditioned countless actors until we found the right ones for each character. We recruited talented film professionals from all over the country, including Hollywood," Sorola said. "Counter Column, according to many testimonies, has already amazed audiences with the quality of the story and production."
Those interested can watch the Counter Column trailer on YouTube and find other information on the film's IMDb page.