The Call
In the summer of 1957, the murder of Michael Farmer in New York City began a chain of events that would extend to the whole world over the next 62 years.  This brutal murder of Farmer by eighteen members of a teen gang, the Egyptian Dragons, became a major news event in the months that followed.  Life magazine published a two-page spread on this trial in their February 24, 1958 issue.  
At the time, David Wilkerson was 26 years old, the pastor of an Assemblies of God church in Philipsburg, Pennsylvania.  Praying alone in his office on a Tuesday night, he felt drawn to the Life magazine on his desk.  He opened it to the story about the Michael Farmer trial in New York City.  The article featured a large ink drawing of the seven defendants in court.  In Dave's own words, "My attention was caught by the eyes of one of the figures in the drawing.  A boy.  One of seven boys on trial for murder.  The artist had caught such a look of bewilderment and hatred and despair in his features that I opened the magazine wide again to get a closer look.  And as I did, I started to cry…
"I was dumbfounded by a thought that sprung suddenly into my head—full-blown, as though it had come into me from somewhere else.  Go to New York City and help those boys."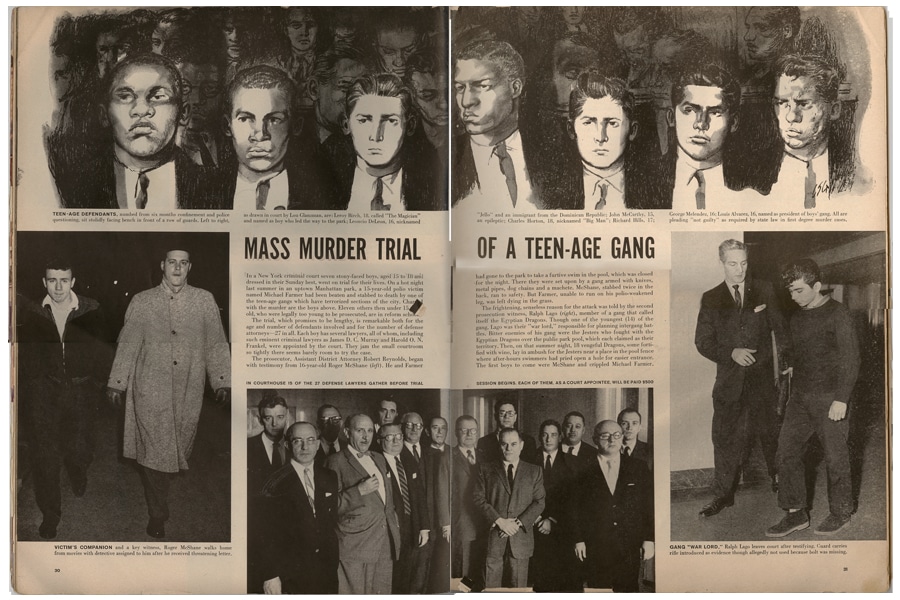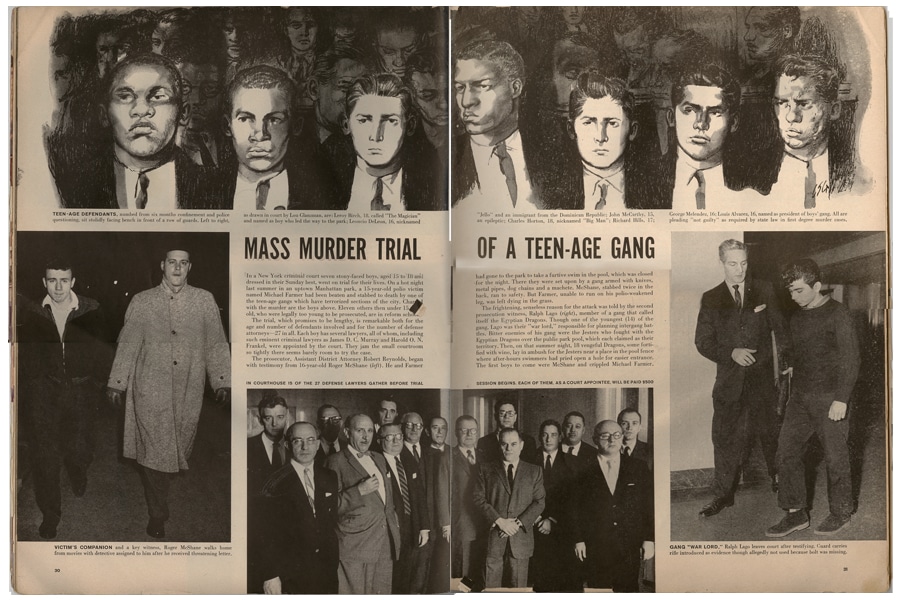 Early Failure
With the prayers of his church members, Dave drove to New York City two days later with his youth pastor, Miles Hoover.  They did not meet with success right away.  In fact, their attempts to reach the teen gang members on trial ended in failure.  Dave was thrown out of the courtroom after an attempt to speak with the judge, and an embarrassing photo of him holding up a Bible was featured in the New York Daily News. 
During his second visit to the city, Dave discovered an unexpected result of the courtroom incident and newspaper photo. Several Egyptian Kings had been in the courtroom the day he had been thrown out, and gang members throughout the city were closely following news reports of the trial. Without realizing it, Dave had suddenly become a celebrity among local gangs. As he explained, "Their logic was simple. The cops didn't like me; the cops didn't like them. We were in the same boat, and I was one of them."
Dave took advantage of his newfound popularity to preach the gospel, both in street meetings and in the crowded rooms of gang hideouts and heroin "shooting galleries."  Conversions to the Christian faith did not come quickly or easily for teens caught up in the gang culture of drugs, fighting, and sex.  With the help of 65 Assemblies of God churches from New York, Dave held a city-wide rally for gang members.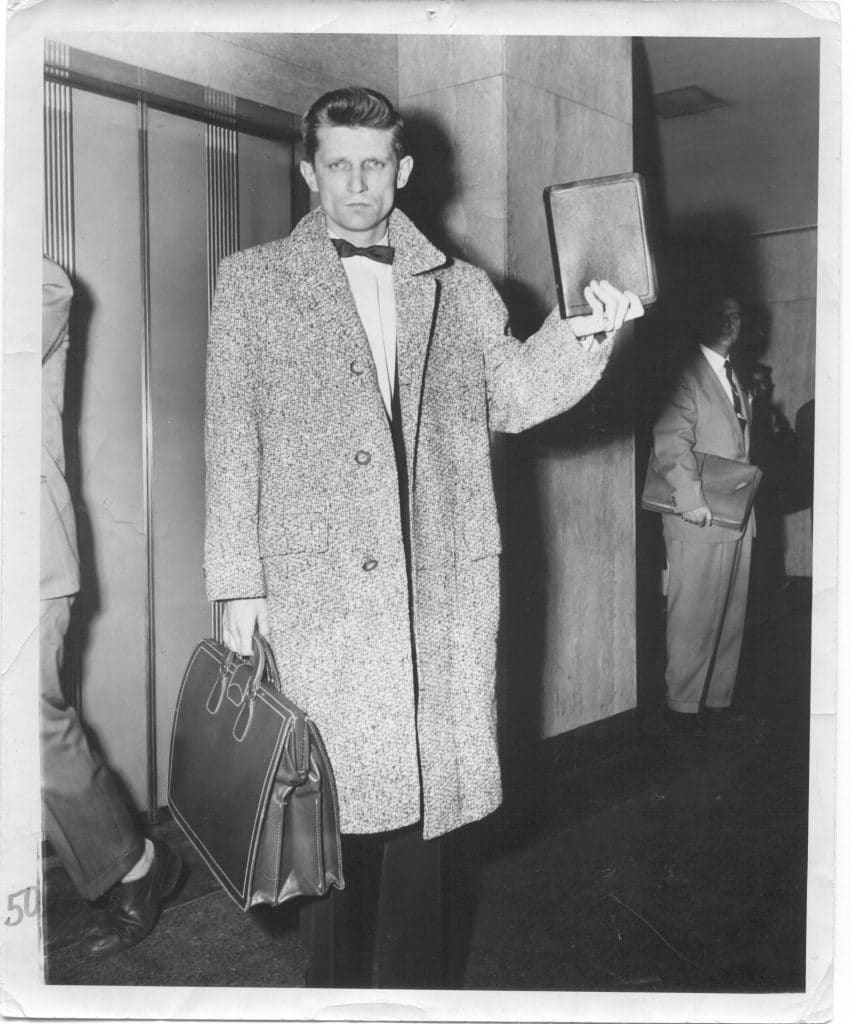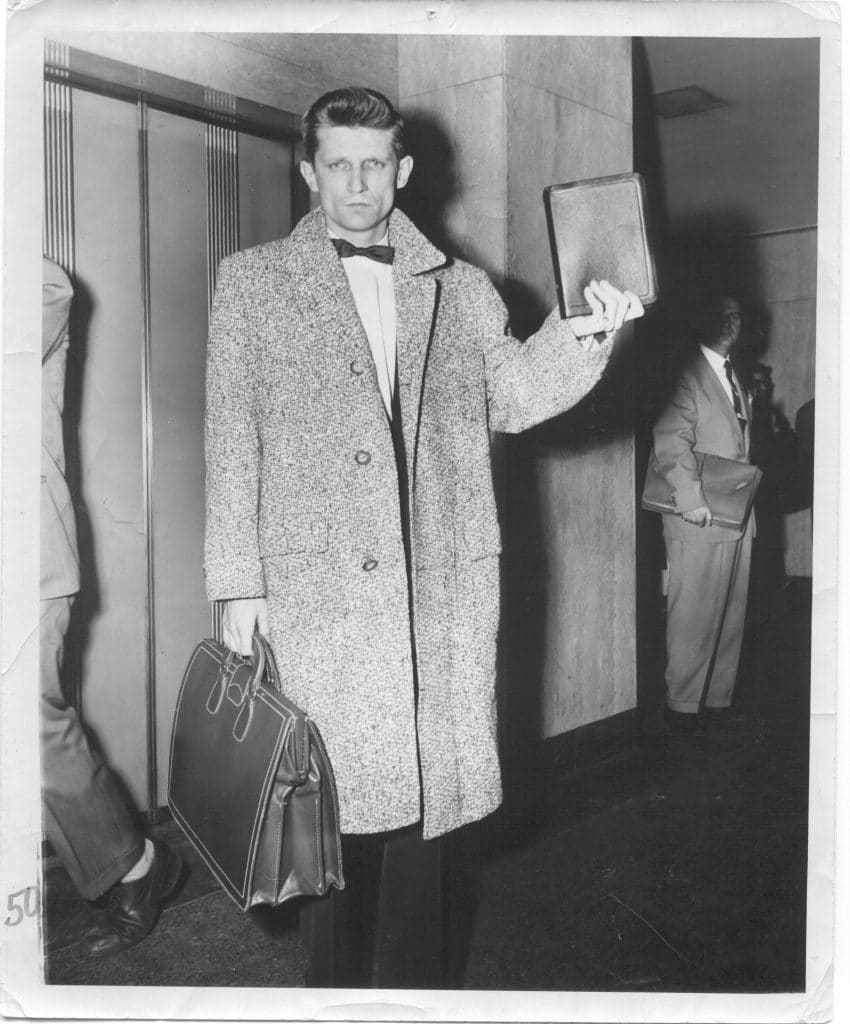 Turning Point
The services took place July 8–12, 1958, but the last night stood out from the rest, a night that would mark a turning point for the ministry.  The Mau Maus, Bishops, and members of several other gangs were in attendance.  At the conclusion of his sermon, dozens of gang members came forward to accept Christ as Savior, including Nicky Cruz and Israel Narvaez, teen gang leaders from Brooklyn.
A few months later Nicky Cruz enrolled in the Latin American Bible Institute in La Puente, California.  When he graduated three years later, he embarked on a career in Christian ministry that would defy conventional wisdom.  God took this ex-gang leader and turned him into an anointed evangelist who has preached to millions. 
New Direction
In the late 1950s, the use of narcotics increased sharply across New York City, and with it came a corresponding decline in teen gang activity.  More and more of the people reached through Adult & Teen Challenge were struggling with drug addiction.  Soon it became clear that the needs of the community had changed.  Evangelism, street meetings, and outreach to teens remained essential, but Teen Challenge's mission grew broader, encompassing recovery from addiction, counseling, and training in practical life skills.  The ministry focused not only on Christian conversion, but also on Christian discipleship, the long-term practice of applying spiritual disciplines to daily life.  Don Wilkerson, Dave's brother, joined the ministry and became the director of the program.
Residential Drug Recovery Program
After a few years of trial and error, Teen Challenge staff members sensed the need for a structured program that could saturate young men and women in a healthy environment with Christian teaching over an entire year.
An advocate for this new type of ministry was Frank Reynolds, the Cornell-educated Assemblies of God pastor on Teen Age Evangelism's first steering committee.  Like many others, Frank marveled at the reports of miracles coming from the Brooklyn center.  At the same time, he recognized that addicts who had been delivered from drugs faced an enormous challenge when they tried to return to their old neighborhoods and attend churches.  Temptations from their old lifestyle remained strong, churches often proved ill-equipped to deal with their problems, and many Adult & Teen Challenge converts fell back into old habits. 
In June of 1962, Dave Wilkerson purchased a farm near Rehrersburg, Pennsylvania, and made plans to develop the very first Adult & Teen Challenge Training Center for men.  Frank Reynolds became the first Executive Director of this center.   On the very same day that Frank and his wife Gladys left Staten Island for Rehrersburg, Dave Wilkerson asked if they could also take a young man who had recently asked Christ to be his Savior.  Frank agreed, so the young man moved into the farmhouse with them and their four young boys while they built the first dormitory.   
With the Rehrersburg Center, Frank's vision of a long-term Christian discipleship program was finally realized.  By the late 1960s, he had established a model of addiction recovery that would become the signature of Teen Challenge programs nationwide.  The Farm took in men recruited by the Brooklyn center and gave them eight to ten months of a structured Christian environment. 
In the next decades, hundreds of young men and women experienced God's transformation in their lives and went on to become pastors, missionaries, evangelists, teachers, and business leaders.  In 1976, the federal government funded a research project that verified that over 70% of the graduates of Adult & Teen Challenge were continuing to live a drug free life.  Several other independent studies in the years since have confirmed that Adult & Teen Challenge is one of the most successful programs to help people find deliverance from drug addiction.  "The Jesus Factor" is the key to this success.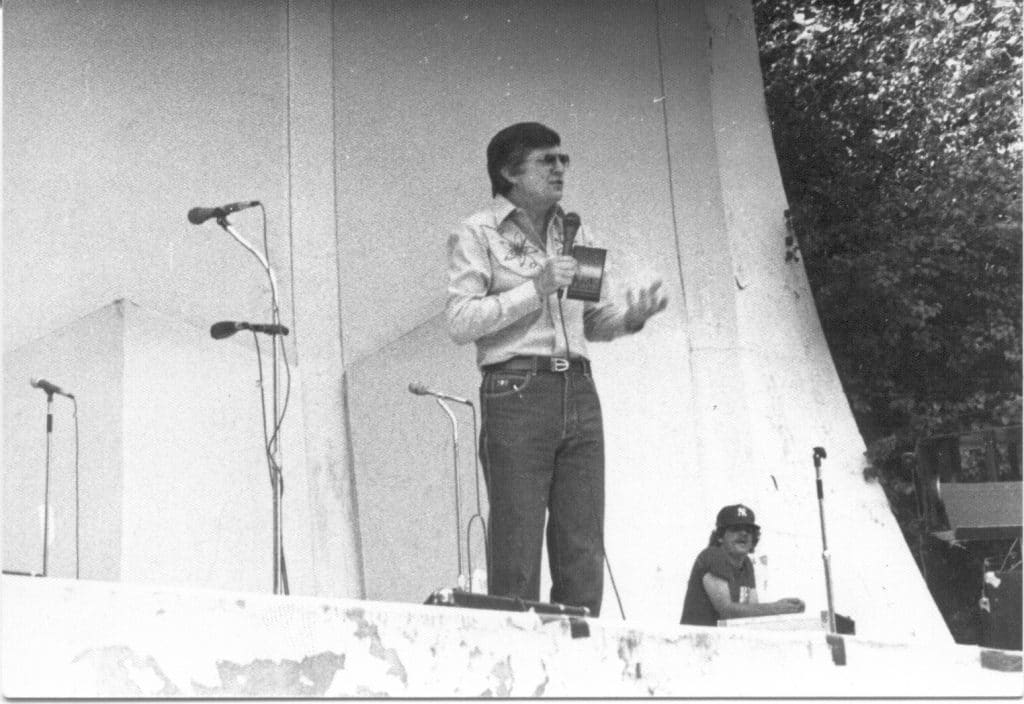 National Exposure
In the early 1960s, Dave Wilkerson teamed up with John and Elizabeth Sherrill of Guideposts magazine to write the story of Teen Challenge.  With the publication of The Cross and the Switchblade in 1963, Teen Challenge found itself in the national spotlight, deluged with pleas for help. 
In the first ten years, The Cross and the Switchblade became a publishing phenomenon, selling 11 million copies in ten years. In the past 57 years it has been translated into over 30 languages. Tens of thousands of people have seen their lives change as a result of this book and the movie—through accepting Christ, receiving calls to ministry, and being challenged to develop a life of faith.
Dave decided early on that only a Christian producer would be allowed to produce a movie version of The Cross and the Switchblade. Dick Ross, a producer who had worked with Billy Graham, contacted Dave for a meeting and the process began. Don Murray was chosen as the writer and director and Pat Boone to play the lead as Dave Wilkerson. The movie was instantly popular. It set first-week box office records in 40 cities and was dubbed into more than 30 languages. After finishing work on the movie, Pat Boone said, "This film is about changed lives. It's about people who are made new, literally rescued from addiction. It's about miracles, the kind you read in the Bible, relating people directly to God and turning them around. It's not a Sunday school lesson; it's a real experience about real people."
The Spread of Teen Challenge
In 1961, the same summer that the first volunteers moved into 416 Clinton Avenue in Brooklyn, a new Teen Challenge center opened in Chicago. Three years later, centers had sprouted up in Boston, Dallas, Philadelphia, San Francisco, and Los Angeles. The new centers across the USA varied widely in their philosophies and approaches to addiction recovery. Some worked exclusively with young teens, while others took in an older population.
Many of these new Adult & Teen Challenge ministries were pioneered by people who had read The Cross and the Switchblade or had visited another Adult & Teen Challenge ministry.  Beginning in the 1960s, the drug epidemic swept across the country and around the world, and these pioneers answered the call. Over the next 52 years, men and women listened to God, stepped out in faith and told the lost about Jesus. As Dave Batty stated, "As I studied the early years of this ministry, it became clear that the success of Teen Challenge does not lie in the grand strategies of Dave Wilkerson or any other Teen Challenge leader. It is truly a sovereign work of God – He chose to raise up this ministry, using ordinary people to do extraordinary ministry."
In 1972 Rev. Frank Reynolds was asked to move to Assemblies of God in Springfield, Missouri, to coordinate the Teen Challenge ministries across the nation. At the time, there were 52 Adult & Teen Challenge centers with 78 satellite outreaches. As the first national leader, Frank began to build an official network of Adult & Teen Challenge centers, which could access ministry resources from the same central hub.
In 1977, Frank hired Dave Batty as the National Curriculum Coordinator.  Over the next 20 years, Dave wrote classroom materials to train the new Christians at Adult & Teen Challenge on a variety of practical topics—for example, "How Can I Know I am a Christian?" "Attitudes," "Temptation," "Love and Accepting Myself," and "Anger and Personal Rights." Wendy Buttacy was hired in 2017 to begin writing a new series for the Personal Studies for New Life in Christ. The first two series are "Designed for Intimacy" and "Breaking Free". Today these discipleship training materials are used in Adult & Teen Challenge programs, similar ministries and churches nationwide and around the world.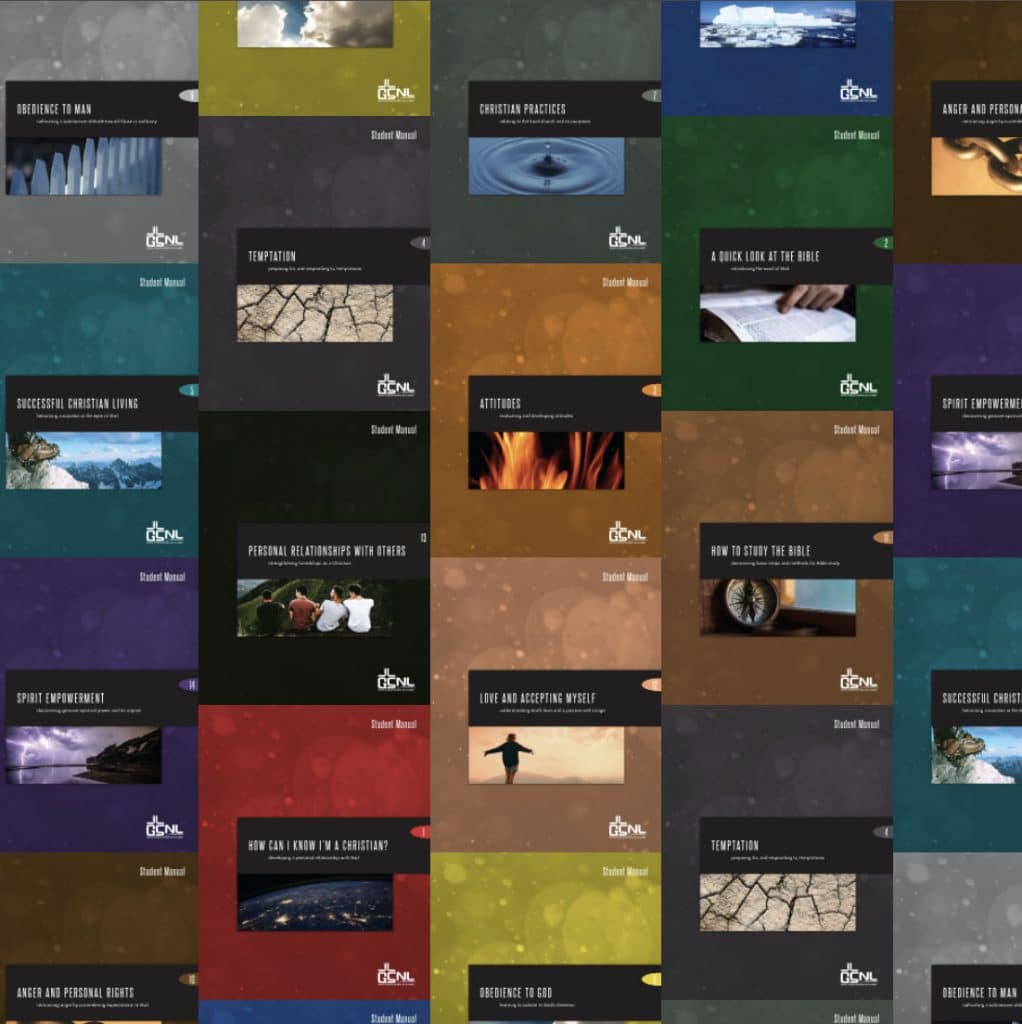 National Recognition
As Teen Challenge grew to be the nation's largest privately funded drug recovery program, it garnered the attention of national leaders.  President Ronald Reagan stated, "Not only does Teen Challenge help our young people deal with their substance abuse, but it also gives our kids something to live for—a relationship with God, a healthy self-esteem, and a direction in their lives that finally leads somewhere. I speak from more than 20 years of knowledge of the organization when I tell you that the Teen Challenge program works." 
President George W. Bush has also staunchly supported Teen Challenge. In 2003, he appointed the late Dennis Griffith, Executive Director of Teen Challenge in Southern California, to serve on the White House Advisory Commission on Drug-Free Communities.
Changing needs
The need for centers for adults as well as teen became apparent. Today there are 213 residential Adult & Teen Challenge centers across the United States and part of Canada. There are centers for women and children, adults and adolescents — male and female. They are all reaching out to their communities to share the gospel of Christ with those outside their center walls. Some are taking the message of hope and Christ's love to the streets in presentations, others do summer Bible schools, neighborhood Christmas parties, pancake dinners for their neighbors, and back to school events. Many Adult & Teen Challenge centers serve their communities during natural disasters, like the Joplin, Missouri tornado in 2011. One of the most encouraging outreaches is the afterschool programs for elementary school children that some of the Adult & Teen Challenge centers operate. The goals are to give the children a safe place to stay after school, to give them something to eat, to help them with their homework and therefore improve their academic performance, to share the dangers of drugs and alcohol, but most importantly to show them that God loves them through the Adult & Teen Challenge staff and volunteers.